Fertilizer or manure? It's an age-old question that has been debated for years and has given farmers headaches for generations. There are pros and cons to both methods each with certain environmental impacts. Learn which one is right for you and how Art's Way X-Series manure spreaders can help. Don't forget to enter your information at the end of this post to learn more about application rates and reducing runoff!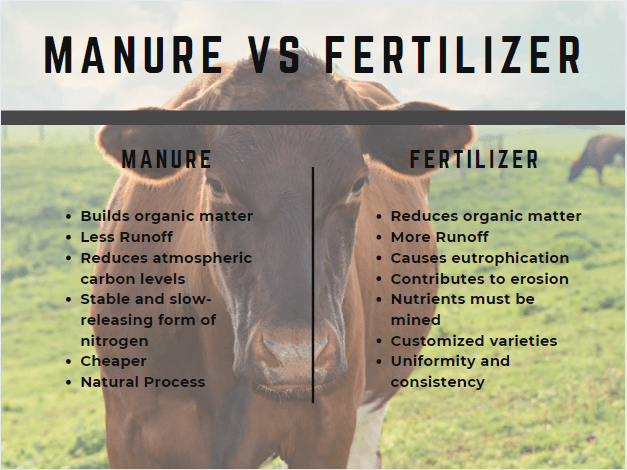 Manure
Applying livestock waste on fields is a natural process that's been used for centuries. It takes less energy to produce which drives costs down. Although there are a few downsides to this method, using manure has many positive environmental impacts: 
Using manure builds organic matter in the soil
The University of Minnesota reported that organic matter feeds microbes which drive nutrient cycles and help the plants absorb nutrients. Healthy soil is able to retain more water like a sponge and reduce soil erosion by 13%-77% according to the Livestock and Poultry Environmental Learning Community. 
The organic form of nitrogen in manure is more stable and slow-releasing
 This form responds to plants' needs better as compared to the nitrate form used in commercial fertilizers. It also reduces leaching, atmospheric carbon levels, and runoff. However, if farmers do not have the proper equipment or management plan, an under/overabundance of manure can be harmful. 
For farmers who choose to use manure, Art's Way X Series is the best on the market! The new flared sides add more capacity for a total of 700 or 900 cubic feet, and the guillotine slop gate ensures uniform unloading. The X Series also provides versatility through its removable beaters that can be used for manure and forage. Learn more about our information on our X700 and X900 models specs.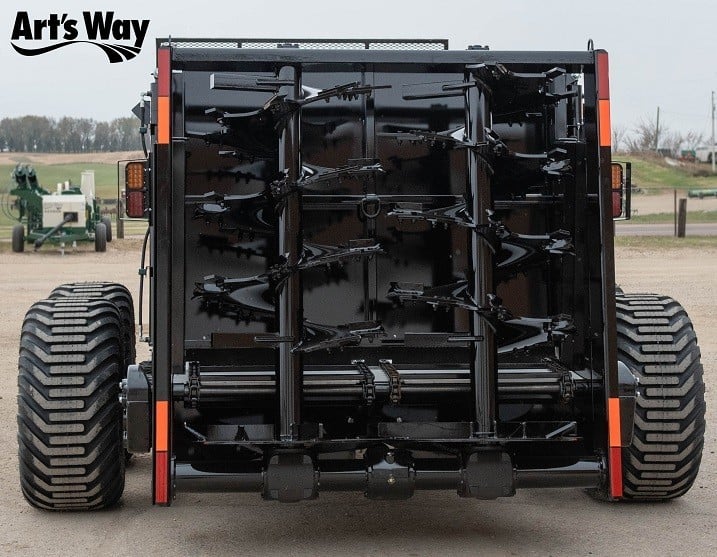 FERTILIZER
Commercial, or inorganic fertilizer, has specific amounts of the three main nutrients plants need: nitrogen, phosphorus, and potassium. These nutrients are mined and can be combined in customized varieties for uniformity and consistency. Although there are predictable outcomes with, commercial fertilizer, the environmental impacts are often glossed over. For example,
Fertilizer is known to cause more runoff than manure
This runoff can reach waterways and cause a process called eutrophication which kills fish. In fact, according to Gary Thorpe, who has an M.S. in Environmental Science, "phosphate levels in water supplies are 75% higher than they were during pre-industrial times."
The soil's structure is diminished reducing its capacity to hold water
Organic matter is reduced leading to top-soil erosion and runoff.
Fertilizer has a high nutrient availability and is liked by many farmers for its fast absorption due to added mineral salts. However, these salts add no nutritional value to the microorganisms and worms in the soil, therefore, reducing soil organic matter. This creates a treadmill effect where the field will require even more fertilizer to maintain the benefits.
Whether you chose manure or fertilizer, Art's Way has equipment parts for all your needs. Contact us today!
Want to know how much manure you should be adding to your fields? Subscribe to receive an exclusive link to another blog discussing manure application rates! Plus, when you subscribe, you'll receive three emails from Art's Way to learn more about manure and our X-Series.