Employee Spotlight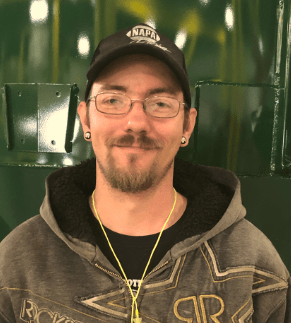 This month we would like to recognize Darren Bishop as our Employee of the Month. Darren has worked at Art's Way for nearly two years. He works in the assembly department working to finalize whole goods. His favorite product to build is the TOP-SPREAD bale processor because it was the first thing he learned to complete on his own.
Darren is from Fairmont, MN and lives there with his eight year old daughter, Aubree.  In his free time, he likes to spend time with his family or ride motorcycles. Darren has lived in five different states and his favorite team is the Oakland Raiders. When he was younger, he wanted to grow up to be a fire fighter or racecar driver.
If Darren had to compare himself to any animal, he believes that he closely represents a wolf. If he had the chance to trade places with anyone for a day, he would still choose to live his own life. Thank you Darren for all of your hard work!