OPT-IN DEALER MARKETING PACKAGE REGISTRATION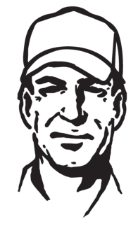 Art always said: "Marketing is a pain in the arse, so let somebody else do it."
Sometimes sales and marketing go together like oil and water. Both of 'em thinking the other needs to get outta the mix. But truth be told, the mission is the same for both: Get Art's Way into people's minds and ultimately their operations.
That's where the Let Us Handle the Marketing B.S. Package comes into play. We develop and provide all the marketing tools you need to get the word out, so you can focus on what you do best — selling Art's Way equipment.
This opt-in marketing program is completely optional (hence the name). If you want it, great. If you don't, that's fine. Just know we're hard at work, helping you sell the hardest working equipment in the game.
Personalized to make it yours
Here's how it works: Art's Way develops a full fleet of marketing assets featuring your dealer logo and information. That way you get all the credit while doing only half the work. That's a good deal.
THE "EQUIPMENT THAT DOESN'T QUIT" PACKAGE INCLUDES
Personalized direct mail postcards (200)
Personalized high-impact posters (5)
Social media graphics with post copy
Personalized e-blast
THE "BUILT TO LAST" PACKAGE INCLUDES
Social media graphics with post copy
Personalized e-blast
The "Equipment That Doesn't Quit" package will be distributed mid-November 2022, whereas the "Built to Last" package will be distributed early December 2022. By signing up for the opt-in marketing program, your dealership will be enrolled in both packages.
CREATIVE
Different versions of creative packages are available for beet dealers and livestock dealers.
COST
$750 Art's Way Co-op dollars
Art said it best: "Co-op marketing budgets aren't worth a darn unless you spend it." That's why your opt-in costs will be deducted from your co-op marketing budget.
DEADLINE
Register by November 15th
BENEFITS TO DEALERS
Let's get local: A highly targeted, local approach to marketing means we're putting dollars to the right eyes and ears for your dealership
Your dealership shines: Materials are personalized to each dealer with your logo imprinted prominently and contact information included.
Do it again and again: Deliver multiple touch points with unique messages and images – yet a consistent branded look and feel.
You are pre-approved: With the dealer co-op program, Art's Way picks up the tab.
Automation is our salvation: An automated program, after signup, means less work and more marketing impact.
REQUIRED ITEMS
Please email the following items to marketing@artsway.com
Dealer logo – black version in .png, .eps, or .jpg format (or upload below)
List of up to 200 names, addresses and emails for direct mail and e-blast (in provided Excel template)
If a list larger than 200 mailers is desired, per-dealer pricing can be determined by Lessing-Flynn, Art's Way's marketing partner. Additional mailers will be at full-cost to the dealer.